ClubsHR Product Update - July 2022
This month the development team at ClubsHR team have been busy with behind-the-scenes work, including general fixes/improvements and a tonne of work in preparation for future UX improvements and feature releases. Whilst I know big feature releases are way more exciting, it's the work we need to do so we can give you more.
So this month, we have a small but powerful feature release for Xero Tracking Codes, a new Annual Billing option for your ClubsHR account, and some existing feature spotlights to get more out of your ClubsHR account.
Xero Tracking Codes

Tracking Codes are used in Xero to report parts of your business.
ClubsHR can use tracking codes in two ways. You can assign by Site or by Position, depending on how you have set up your account and what you want to achieve as to the best way to use tracking codes.
For instance, if you have set up your Xero account to use tracking codes for reporting on the revenue in the different areas within your club (e.g. Front Bar, Kitchen, Outdoor Bar), I will give you two scenarios to consider.
Sites: If I've set up my ClubsHR account to have a separate rostered Site for each department in my business (i.e. Front Bar, Kitchen, Outdoor Bar), it will make sense to allocate the tracking code on the site.
Positions: If I've set up my ClubsHR account to have one Site for rostering that covers the Front Bar, Kitchen and Outdoor Bar in one Roster. I may want to consider having Positions in my account that separate each area within my business. For instance, I could have a Front Bar Manager, Chef, or Outdoor Bar Waitperson; from there, you could allocate the correct tracking code to the position.
To learn more about tracking codes - Click here.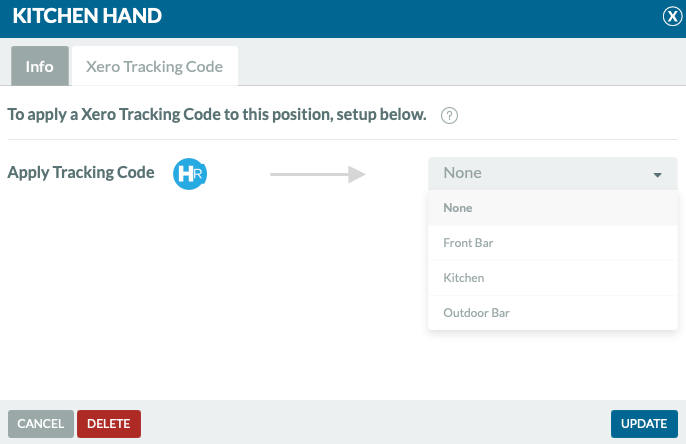 Annual Billing
Frequently we're told that we are one of the market's best value rostering and payroll solutions. However, we've taken it further by offering a tiered discount if you pay annually. You can see our monthly and annual pricing on our pricing page.
To learn more about annual billing, how it works and how to change to annual billing, look at our help article HERE.
Feature Spotlight
How to Copy a Roster from a Previous Week and Validate Staff Availability
When copying a roster from a previous week, you can click Publish without actually going live with the roster as a quick check to see if any staff are unavailable, on leave or overlapping on the roster with other shifts they have. This trick saves you from copying a roster, then updating it and clicking publish, only to find that the time you spent updating the roster needs to be done again as one of your key staff members is unavailable this week.
To learn how to copy and validate a roster - Click here.
Auto Rounding Staff Clock In/Out Times
ClubsHR allows you to pay your staff based on four different payroll methods. You can pay them based on their Rostered, Time Clock (clock in/out), Auto Rounding and Custom.
Before we talk about Auto Rounding, I'll briefly cover the three other choices.
Rostered - Choosing the rostered time will pay the staff precisely as rostered. Simple and effective.
Time Clock - Time Clock pays staff the exact times they clock in and out. It's a popular option that brings a level of time and attendance that you may not have previously had. However, some businesses may find paying staff precisely to the minute a bit cumbersome when every shift in payroll has a clock in/out and break time that is a minute or more off.
Custom - Custom allows you to pay your staff for hours you manually input into ClubsHR. Great for when a staff member forgets to clock in/out to their shift's start, end or break time. We also find that many customers use the Custom choice instead of Auto Rounding because they either haven't set up Auto Rounding correctly for their business or are unaware of the option. Whilst this works fine, Auto Rounding can save you time manually editing each shift on your payroll.
Auto Rounding - Auto Rounding will round the payroll times to a time that is 'cleaner' than simply using the Time Clock times. They can be set up separately for start, end and break times, and each of those times has three choices in the workflow that allows you to have an initial rounding timeframe and another rule if staff clock outside of that initial timeframe. In other words, you could set ClubsHR to give staff a 10-minute buffer to clock in and outside that 10-minute buffer, round to the nearest 5 minutes. So if you had three staff starting at 8 am who clocked in at 7.55 am, 8.08 am, and 8.13 am. The three clock-in times would be 8 am, 8 am, and 8.15 am, respectively.
Customers using this feature often tell us the time saved is huge by selecting Auto Rounding as the payroll time. Rather than have times all over the place, give Auto Rounding a go. Click here to find out more on how to set up Auto Rounding.
Until Next Month

We hope you like the updates and look forward to updating you next month with the next round of updates we have in the pipeline! There are plenty more exciting features coming that I know will be popular with customers.